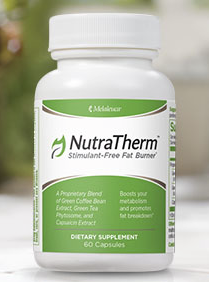 Burn More Fat Naturally with NutraTherm™

It has a proprietary blend of three clinically-tested ingredients that helps your body break down and burn fat, slow sugar absorption, and increase calorie burning.

I've been using it and have experienced amazing results!

Here are the ingredients:

Green Coffee Bean Extract
Backed by multiple clinical studies, this proprietary, decaffeinated extract helps slow blood sugar absorption and supports the release of fat for enhanced metabolic support.

Green Tea Phytosome Complex
Clinically shown to deliver up to three times the beneficial properties of traditional green tea extract, this highly bioavailable, caffeine-free complex provides a thermogenic effect that helps promote fat utilization and greater calorie burn.

Capsaicin Pepper Extract
Using a controlled-release beadlet technology to help avoid burning or discomfort, this hot pepper chili extract promotes fat breakdown and thermogenic energy production.

So if you're looking for a little stimulant-free metabolism boost that helps to burn fat naturally, I would highly recommend NutraTherm™.



I hope you found this helpful and if you have any questions, feel free to contact me any time!


Other Articles:
Who Else Wants More Energy?
37 Things You Will Regret When You're Old