Researchers: 769 children were hospitalized -- of which 30 went into a coma, 12 suffered seizures and 1 died -- due to laundry pods between 2012 and 2013.


Those colorful, all-in-one detergent pods may be convenient way to get the laundry done, but they pose a risk to young children, a new study has found.

More than 17,000 children under the age of six were exposed to the laundry pods between 2012 and 2013, a study published in the journal Pediatrics found by tracking calls to poison control centers throughout the country. Most of the incidents involved a child placing the pod in their mouth or eye.

Researchers at Nationwide Children's Hospital in Columbus, Ohio noted that the exposures led to 769 children in the U.S. being hospitalized. Thirty went into a coma and 12 suffered seizures after handling the squishy plastic coated discs filled with laundry soap, softener and other detergents. One child died after ingesting a pod, researchers found.

Dr. Gary Smith, the director of the Center for Injury Research and Policy at Nationwide Children's Hospital and the study's lead author, said that he has been in pediatric emergency medicine for more than three decades and had never seen so many children sickened by a laundry product.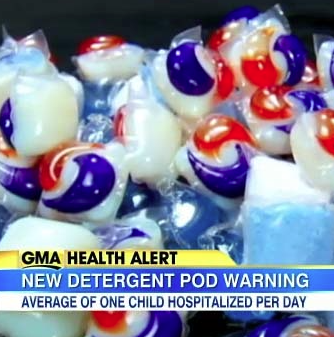 WE HAVE A CHOICE with what we buy and what companies we support.

Join our mission of enhancing lives with safer, healthier products for our homes, families and our environment!